S.Gokula Indira, Former Minister of AIADMK
 Launch

ed

  "MCKINGSTOWN"  Men's Grooming 

Salon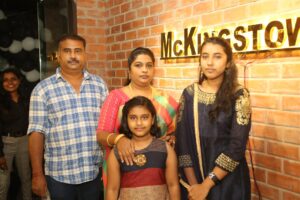 Premium beauty services at affordable rates
. 
A cut above the rest, Mckingstown reinvents Men's grooming scene in Chennai
.
As Chennai's first contemporary salon designed only for men, McKingstown endeavors to introduce Chennai men to best in class service, artistry and innovative European shaving techniques.
"MCKINGSTOWN" Men's Grooming Salon is a is a beautiful amalgamation of the European retro barber shop trend mixed with modern full-service salon that will raise quality and men pampering standards. 
Here men can feel like men while getting pampered and cleaned up.
Whether you need a haircut, shave or facial, we're conveniently located in AnnaNagar, offering a wide range of bespoke male grooming services tailored to your needs. .
Regular barbershops may offer cheap cuts and fast service, we offer Hygiene, professionalism and personal attention in addition.
.
Our doors are open to men who desire to look their best at all times, whether for business or pleasure. Or

 

Come experience the #Likeaking magic at McKingstown! 
Our Story

Once upon a time, Indian men's idea about grooming was all about cutting and shaving.
A man using shaving cream was celebrated. One using deodorant was considered dapper. Today things have changed….
Today's men are becoming ever more conscious of their looks….
Today's men don't stop at basic grooming. They want facials, manicures, pedicures, hot towel shaves and more!
It is with this recognition, the idea of McKingstown was born!
Our salon celebrates this new breed of men who is not just beauty-curious but also beauty-conscious!
Our highly skilled staff elevates the traditional barbershop experience to suit the sophistication of the modern man, moving beyond basic grooming. 
Offering you a rejuvenating, king-like experience alongside standard barbershop services.
(Or)
Perched in the heart of Anna Nagar, Chennai, McKingstown Men's Salon offers a variety of shaves and grooming services for men —but we are definitely not your street side barbershop!
Our highly skilled staff elevates the traditional barbershop experience to suit the sophistication of the modern man, moving beyond basic grooming. 
Our brand strives to offer premium quality and experience at a reasonable price that can be afforded by the every day man. 
About Darren
"10 years' experience"
Darren Rodrigues Founder, Dt Ventures, has been in the salon business for over 10 years. A true mentor in the industry Darren is the creator of a professional coaching model for aspiring stylists and salon owners. His knowledge base is an unparalleled resource for upcoming groomers hoping to set base. During his time in the industry, he has worked for leading global brands and has carved a niche for himself in the beauty and grooming world.
He dreams to find freedom and profit in a business that offers premium beauty services at affordable prices. He now encourages other salon owners to do the same through mentoring, coaching & modern marketing strategies. Some of the brands he has helped establish are The Lash Luxury Salon, 24k Luxury Salon and Spa, Studieo7 Signature Lounge. He is a man of many talents and attributes his success to determination & clear vision (or) thinking from the perspectives of a customer. (or) the mix of knowledge and experience he has gained over the years.
He believes consistency in delivering superior service experience is the key to running a successful salon business, a factor hugely dependent on the quality of staff you hire, train and retain. 
QUOTE – "At McKingstown, chances are you will get the best hot towel shave you have ever had in your life, at a price that's slightly higher than a barber shop but way less than high-end salon. It's a win-win situation for all of us. "
Our Team
We are a devoted team of professional groomers. Our team of staff is highly trained in all services a modern man may need. 
Meet the team – to be added if needed
Our Philosophy
We treat every client as an opportunity to showcase our craft, passion and professionalism. Our mission is to deliver highest level of skill, style, and service to all our clients.
We take pride in every service that we offer.  
Our Vision
Make premium beauty & grooming services affordable for the everyday man 
(or)
Offer premium beauty & grooming services as an affordable luxury to the everyday man!!
(or)
Making high quality and standardized beauty services affordable and available to the everyday man.
TAG LINES
Feel like a king pay like a commoner
Royal grooming made affordable
For the style and service, you deserve!
Men's only premium salon at a not so premium price
Great Service at Great Prices
Experience royal ambience at a fair price
Submerge in royalty 
Where men can be men
World class grooming at affordable price
An upscale salon experience at a price you can afford. 
Men's only premium salon offering exclusive styling experience
contact for further details :-

8939900567